October 22, 2019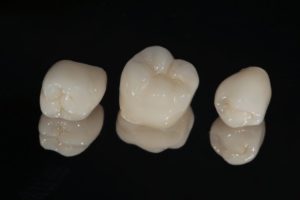 A few months ago, your dentist told you that you have a tiny cavity that needs to get filled. You meant to schedule an appointment to get it fixed, but it slipped your mind and now your tooth has even more decay. Now your dentist says you need a crown to hold your tooth together and prevent future damage. What can you expect when you get dental crowns in Torrance? How long do they typically last? Continue reading to find out.
What Are Dental Crowns?
Dental crowns are tooth-shaped caps that are designed to slip over a tooth to protect it from decay or damage. They can also be used for cosmetic reasons, such as to correct a tooth that is misshapen, slightly rotated, stained, or yellowed.
When you first get a crown, you can expect your dentist in Torrance to first prepare your tooth for the crown to fit over it. This may involve some removal of tooth enamel to make room for the crown. Once the tooth is sufficiently prepped, your dentist will take impressions of it and send those off to the lab, where your permanent crown will be designed. In the meantime, your dentist will fit you with a plastic temporary crown to wear for a few weeks. Be sure to take extra care of that crown so as not to break or dislodge it. In fact, it's a good idea to avoid chewing on that side of your mouth until your permanent crown is ready. Once it is, you'll simply have to return to the office, and it will be placed quickly.
How Long Do Dental Crowns Last?
As long as you take good care of your dental crowns, you can expect them to last from five to fifteen years before they need to be replaced. Caring for your dental crowns is actually pretty similar to taking care of your un-crowned teeth. It involves steps like:
Daily flossing
Brushing at least twice a day with fluoride toothpaste and a soft-bristled brush
Visiting your dentist in Torrance at least once every six months for a checkup and cleaning
Avoiding chewing on ice, pencils, or hard foods
Limiting chewing on crunchy or sticky foods directly with the crowned tooth
Not smoking or chewing tobacco
As you can see, once they are placed, crowns are not all that different from natural teeth. By taking good care of them, you can make sure they stay a part of your smile for years to come.
About the Author
Dr. George Cho has earned a Fellowship with the American Board of Prosthodontics, or artificial teeth. This means that when you need a dental crown, you can rest assured that he will craft a beautiful and long-lasting one for you. To book a consultation to see if dental crowns are right for you, click here or call (310) 424-3100.
Comments Off

on How Long Do Dental Crowns Last?
No Comments
No comments yet.
RSS feed for comments on this post.
Sorry, the comment form is closed at this time.