October 1, 2019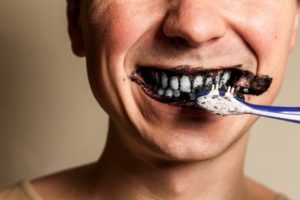 If you've been on social media lately, chances are you've seen someone brushing their teeth with what looks like a strange black paste. It's actually called activated charcoal, which has been ground up into a paste and applied to the teeth. You may have seen people touting the benefits of using activated charcoal to whiten their teeth, but does it actually work? Let's talk about why you should probably stick to professional teeth whitening in Torrance.
What Do Social Media Influencers Say?
Just doing a quick search for "charcoal teeth whitening" will yield hundreds, if not thousands, of results from beauty bloggers claiming that it gives them Hollywood smiles after just a few uses. The idea is that you can purchase activated charcoal from the drugstore, grind it up into a powder, mix it with water to form a paste, and use it to brush your teeth three times a week to get your smile to shine.
What Does Your Cosmetic Dentist in Torrance Say?
Your dentist actually warns against using activated charcoal to brighten your smile. Believe it nor not, charcoal has properties that can be abrasive to your enamel, or the outer layer of your teeth. Once your enamel has been lost, it can't be replaced.
Using charcoal to whiten your teeth may actually cause more harm than good. It can wear down your enamel, leaving you more vulnerable to painful cavities and sensitivity to hot and cold foods and beverages. In addition, if your enamel is eroded, it exposes the yellowish layer of dentin underneath. Trying to whiten your teeth might leave your teeth looking even less white than before.
What Does the American Dental Association Say?
The American Dental Association has not given activated charcoal is Seal of Acceptance. A 2017 article from the Journal of the American Dental Association concluded that there is not enough clinical data to determine whether charcoal is safe and effective enough to whiten teeth without also damaging them. More research needs to be done before they can reach a verdict.
When in doubt, ask your dentist before using a whitening product on your teeth. better yet, ask them about professional teeth whitening to brighten your smile in a safe way.
About the Author
Dr. Sanaz Hamzehpour believes firmly in getting to know patients on a personal level before she decides on a personalized treatment plan for them. She'll get to the bottom of why your teeth are stained and why you want a whiter smile in the first place before providing a whitening treatment that will blow you away with the results. Stop using charcoal, and start using professional whitening treatment. Contact Dr. Hamzehpour via her website or call (310) 424-3100.
Comments Off

on Can Charcoal Actually Whiten Teeth?
No Comments
No comments yet.
RSS feed for comments on this post.
Sorry, the comment form is closed at this time.