November 20, 2019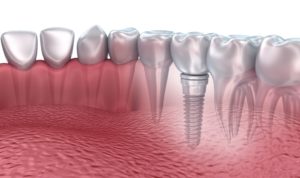 If you're missing one or more teeth, odds are you've thought about, or at least heard of, dental implants in Torrance. These titanium posts are inserted directly into your jawbone, perfectly mimicking the roots of your natural teeth. They can last for decades, or even the rest of your life with proper care. However, it's not a simple procedure, and treatment usually takes months with several appointments. Let's take a closer look at the whole dental implant process.
Initial Consultation
First things first, you need to meet with your implant dentist to determine if you are a good candidate for the procedure. Your dentist will take x-rays and impressions and perform a comprehensive exam of your mouth. Next, they will give you a timeframe for the treatment and give you an idea of what steps you need to take to ensure successful implant placement.
Tooth Extraction
If your teeth need to be removed to replace them with implants, your dentist in Torrance will extract them. Sometimes the dentist may be able to immediately place implants afterwards, but this depends on your individual case.
Bone Grafting
If you do not have enough healthy jawbone to support an implant right away, your dentist can perform a bone graft surgery. This is where bone tissue from elsewhere on your body is placed in your jawbone. Then, your jawbone will integrate with the new bone tissue, making it strong enough to support implants. This healing process usually takes several months.
Implant Placement
Thanks to anesthesia, you will very likely be asleep for the whole implant placement procedure. This is when the implant post is installed directly into your jawbone. The procedure should take an hour or two, depending on how many implants you are receiving. Afterwards, you will have to wait about three to six months for your jawbone to grow around the implant post. Once your mouth is all healed up, you'll be ready for the final stage of the process.
Abutment and Crown Placement
A few months after the implant placement, your dentist will install the abutment, which is a metal connector that attaches the implant to the crown. The crown is the visible portion of the implant which will blend right in with the rest of your smile. Once the crown is placed, voila! Your implant journey has reached its conclusion, and your smile is as good as new!
The dental implant process can be long, but it will be well worth it to have a near-perfect tooth replacement smiling back at you in the mirror. If you have a gap in your grin, talk to your dentist about whether dental implants would be the right solution for you.
About the Author
Dr. George Cho obtained his dental degree from the University of Southern California School of Dentistry in 1987. Since then, he has been involved with educating students about dental implant placement. He is passionate about sharing his knowledge of implants with interested dental students. To learn more about dental implants, you can contact Dr. Cho's practice, Blue Coast Dental, at (310) 424-3100.
Comments Off

on What's the Process of Getting Dental Implants?
No Comments
No comments yet.
RSS feed for comments on this post.
Sorry, the comment form is closed at this time.