December 1, 2019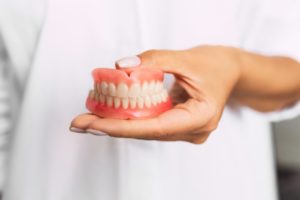 When you first got your dentures in Torrance, you were over the moon. You could finally eat your favorite foods and sing your favorite songs once again. But that was a few years ago, and your dentures are starting to slip around when you talk. They feel uncomfortable every now and again. What should you do? Read more to find out.
First, See Your Dentist
Whenever you find that your dentures are causing you discomfort, your first order of business should be to call your dentist. They are, after all, the expert on your dental situation. NEVER try and adjust your dentures by yourself, as that could make the problem a whole lot worse. Instead, call your dentist and let them know that your dentures don't fit quite like they used to. Their office staff should try to get you in for an appointment as soon as possible.
Getting New Dentures
Dentures need to get a refitting, also known as a relining, every five to ten years. When you have undergone tooth loss, the gum tissue and underlying jawbone change shape with time. Eventually, the jawbone shrinks, causing the dentures to not fit correctly as time passes. Most dental insurance plans, fortunately, cover the cost of new dentures at least once every five years. Your dentist can take impressions of your gum tissue and use them to design a brand-new set of dentures to fit you perfectly.
Replacing Your Dentures with Dental Implants
While dentures are a great way to replace missing teeth, they're not right for everyone. Another excellent solution to tooth loss is dental implants in Torrance. Dentures anchored in place by dental implants don't slip around or change their fit.
With implant-retained dentures, your dentist can place an average of four to six implants throughout your jawbone, in the areas where they will receive the most support. Even if you have already undergone some jawbone deterioration due to tooth loss, you can still receive these implants, as they are placed at a 45-degree angle.
Once the dental implants have finished fusing with your jawbone, you will receive dentures that clasp onto the implants. This means no more unexpected slippage or incorrect fitting. Your new teeth will fit for decades, possibly even for the rest of your life if you maintain them properly with regular cleaning and dental checkups.
Having dentures that don't fit correctly is inconvenient, but there are solutions to this problem. Just call your dentist, and they should be able to determine how best to solve this problem.
About the Author
After earning his dental degree from the University of Southern California School of Dentistry in 1987, Dr. George Cho attended the Advanced Education in Prosthodontics (artificial teeth) Program at the Ostrow School of Dentistry of USC. He has taught courses at the pre- and post-graduate level in dental implants and prosthodontics, so he is an expert on the subject. If your dentures aren't fitting correctly anymore, or if you're interested in implant-retained dentures, contact Dr. Cho's practice at (310) 424-3100.
Comments Off

on Do Your Dentures Not Fit Properly? Here's What to Do
No Comments
No comments yet.
RSS feed for comments on this post.
Sorry, the comment form is closed at this time.