Dental Savings Plan - Torrance, CA
In-House Dental Plan
At Blue Coast Dental Group, we do our best to make our payment options stress free and affordable. This is why we offer our In-House Savings Plan. Our plan is designed for patients who do not have dental insurance and still want quality dental care, in an affordable, convenient way. We believe you should have consistent access to the dental care you want and need.
---
Quality that's Affordable
Our Blue Coast Dental In-House Dental Plan was created to provide greater access to dental care at an affordable price. The following yearly benefits are included as part of our in-house dental plan:
Our Annual Exam
Our Emergency Exam
Two Standard Cleanings(does not include antimicrobial irrigation or fluoride)
Full Mouth X-Rays
Bitewing X-Rays
20% discounted fee schedule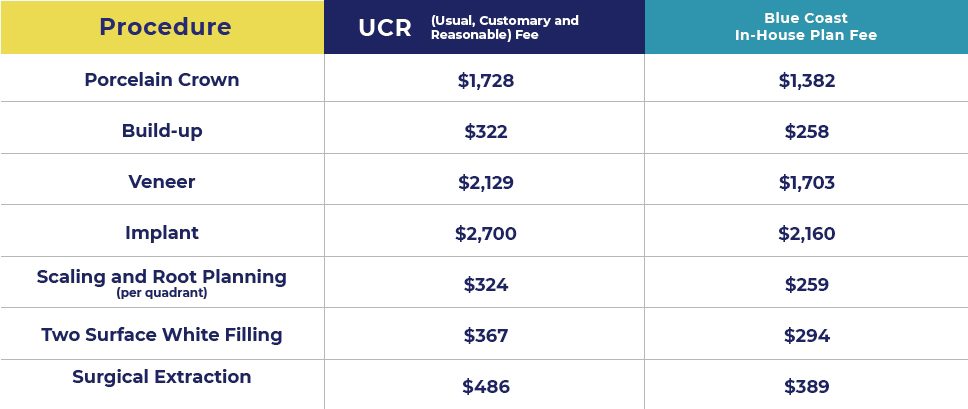 Fee Schedule Available Upon Request
---
Wonderful experience as usual. I've been going here for my dental needs for 20+ years and it's always maintained the highest level of excellence. Friendly, helpful staff. Personable and competent doctor. A variety of hygienists to fit all needs and styles.
2020 Google Review
---
Program Exclusions and Limitations
This is NOT a dental insurance.
This is an in-house dental membership plan that is ONLY good at Blue Coast Dental Group. It CANNOT be combined with any other dental insurances or plan.
Membership premium is due at the time of the first appointment.
All payments are non-refundable.
No refunds of premiums will be issued at any time if participant decides not to utilize plan.
All financial terms of Blue Coast Dental Group are applicable to the membership plan.
With Auto-renewal, you have the benefit of locking-in your annual membership fee, with the previous year's rate.
If a lapse in membership occurs you will be subject to the current year's plan rates.
The *two cleanings included in this plan are standard cleanings or periodontal maintenance.
Additional Cleanings will be an out of pocket expense, per the discounted fee schedule under the plan. If you are diagnosed with active periodontal disease, that will require scaling and root planning, this will not be considered as a "standard cleaning".
Memberships will automatically renew on the anniversary date until cancelled in writing 30 days prior in writing.
Membership fees and plan discounts are subject to change on an annual basis (per calendar basis effective January 1).
Updated fee schedule disclosed the November prior to the effective date. Premium payments are good for 1 year.
The fee schedule is only applicable to services performed at Blue Coast Dental Group. Any procedures referred to specialist outside our dental office are not included.
Blue Coast Dental Group reserves the right to cancel or discontinue this plan for any reason at the end of the membership term.
Membership services that are not used are lost, they are not carried over.
---
Terms and Conditions
We reserve the right to cancel this contract at any time without refund for:
Behavior Concerns.
More than 2 Cancellations with less than 24 hours notice.
Having outstanding balance for more than 30 days.

If you were seen on a "New Patient Special", your initial visit fee can be applied to the cost of annual premium. Complete payment must be made within 30 days of your initial visit to receive the credit.