February 15, 2019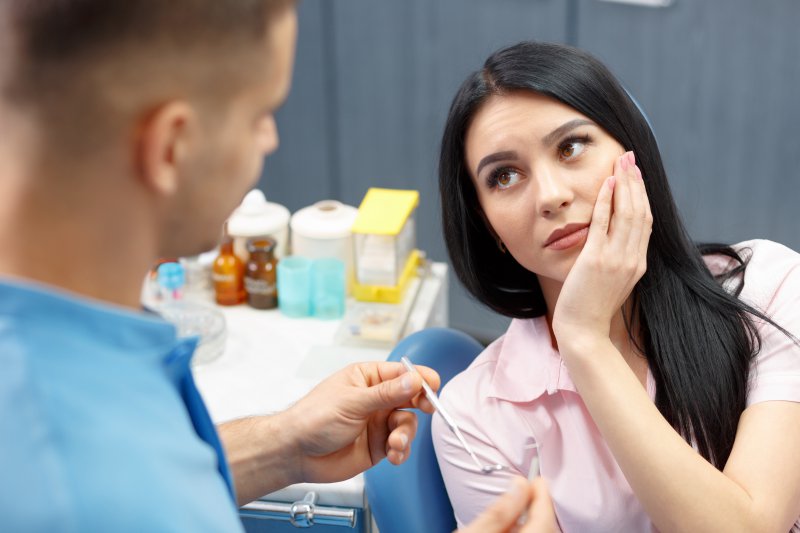 It may be startling to hear, but 85 percent of U.S. adults have some form of gum disease. While this includes even the mildest forms of gum disease like gingivitis, it doesn't mean you shouldn't be seeking necessary treatment or improving your oral care habits. Gingivitis can easily develop into more severe stages of the condition that a whopping 47 percent of U.S. adults over the age of 30 carry: periodontitis.
To learn about the more detailed symptoms of these conditions as well as which treatments you'll nee to consider, keep reading!
Types of Gum Disease
Gum disease occurs in stages, each with their own unique symptoms and side effects. The most common form of gum disease is gingivitis, which most people experience at least once in their lifetime. This stage is easily reversible if you catch it early and make adjustments to your oral care routine. These adjustments could include brushing and flossing more effectively, introducing an antibacterial mouthwash to your routine, or simply visiting the dentist for a professional cleaning (followed by improved at-home care.)
The advanced form of gum disease is known as periodontitis and significantly more harmful compared to gingivitis. This condition cannot be managed with at-home care alone as plaque will have reached areas that brushing and flossing won't be able to clean. Professional intervention at this stage is absolutely necessary if you want to prevent your condition from worsening.
Symptoms to Know for Each
Gingivitis triggers mild symptoms that may not otherwise be noticeable unless you're looking for them. For example, inflammation of the gums, gums that turn bright or dark red, and bleeding gums while brushing or flossing are all signs that you have mild gingivitis. If you go to floss and there's mild bleeding, but the bleeding subsides after a few days of flossing, then you've largely treated the condition on your own.
Periodontitis involves symptoms that are significantly more noticeable and are unlikely to fly under the radar. The gums will begin to separate from teeth and create small pockets for food debris and plaque to get into. Swelling, bleeding and pain while chewing are also common. If you start to notice these symptoms as well as develop chronic bad breath, teeth misalignment or loose teeth in general, it's time to seek treatment as soon as possible. Without treatment, permanent tissue damage and bone loss can occur, eventually leading to tooth loss.
Treatments to Know
One of the most common treatment methods to reduce the side effects of gum disease are scaling and root planing. These techniques remove calcified plaque from above and below the gumline as well as help the roots of teeth reattach to the gums. However, you can also take advantage of:
Soft tissue laser therapy
Antibiotic therapy
Gum graft surgery
Periodontal pocket reduction
Dental crown lengthening
Are you concerned about the health of your gums? Don't wait to get treatment; contact a dentist to schedule periodontal therapy in Torrance today!
About the Author
Dr. Sanaz Hamzehpour earned her DDS degree from the University of California Los Angeles. She's trained to perform soft and hard tissue laser therapy, soft tissue grafting and crown lengthening to treat varying levels of gum disease. To learn more about her treatments or expertise, you can contact her through her website.
Comments Off

on Learn Why You Should Treat Your Gum Disease in Torrance
No Comments
No comments yet.
RSS feed for comments on this post.
Sorry, the comment form is closed at this time.