July 11, 2019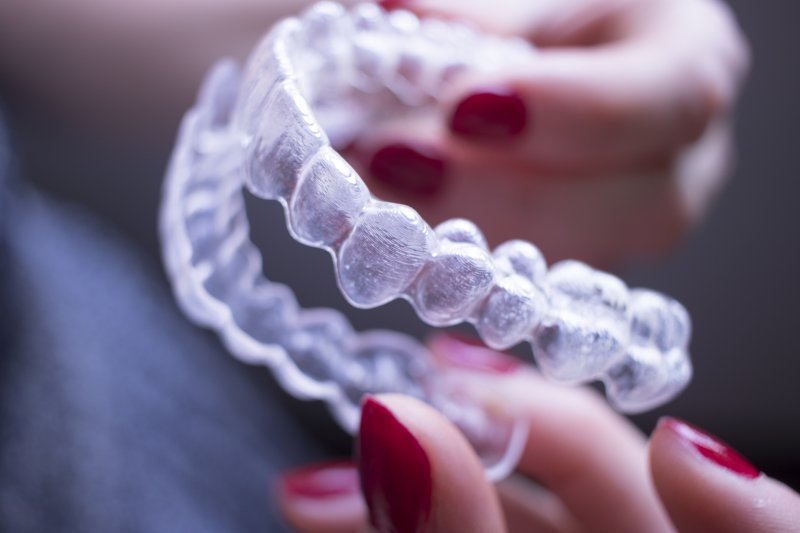 Over 6 million people have used Invisalign to get straighter smiles without needing braces, and it's easy to see why; the see-through trays are a far more image-friendly option than brackets and wires! That said, in order to make sure treatment is successful, you will have to make appropriate adjustments to your lifestyle. If you're not sure what to expect, here are the answers to 5 common questions about wearing Invisalign in Torrance.
1. How Long Will I Need to Wear My Invisalign Trays Each Day?
One of the reasons Invisalign is preferred by many people is that the clear aligning trays are removable, allowing you to eat and drink whatever you want. However, in order to ensure that treatment proceeds as scheduled, you'll need to wear your trays for 20 to 22 hours a day, so only take them out when you need to. It might be a good idea to devise some sort of reminder system so that you don't forget to put your Invisalign trays back in after meals.
2. Can Invisalign Take the Place of a Sports Guard?
While the lack of metal braces can make playing sports an overall more comfortable experience, it's important to note that Invisalign does not protect the teeth from trauma. You'll need to remove your trays and use a sports guard when taking part in physical activity.
3. Will Invisalign Affect How I Talk?
It could take a few days to get used to talking with Invisalign as your tongue adjusts to the presence of the appliance. Some patients might have a slight lisp at first, but eventually this will go away.
4. How Do I Keep Invisalign Trays Clean?
You'll need to take your aligner out to clean it. This can be done with clear mouth wash, a solution of water and vinegar, or Polident denture cleaner; your cosmetic dentist in Torrance might have other suggestions. You'll also want to gently brush the trays with your toothbrush.
Of course, keeping your teeth and gums clean is important as well. Invisalign's removable nature makes it easy to brush and floss as you normally would, so continue your regular oral hygiene routine.
5. How Often Will I Need to Switch Trays?
Your dentist in Torrance will tell you how long you'll need to wear each tray before moving on to the next one. Typically, you'll spend about 2 weeks with each aligner. You'll have regular appointments every 4-6 weeks to check your progress; sometimes a tray might need to be worn for longer than usual.
There are plenty of other concerns or considerations you might have regarding your treatment, and it's important that you be comfortable with the process. Speak with your dentist about any other questions you might have about Invisalign.
About the Practice
At the Blue Coast Dental Group, a general dentist, a prosthodontist and a periodontist combine their talents to give patients high-quality, compassionate care with a wide variety of treatments. They offer Invisalign for adults who want to maintain a professional look while creating a better smile. To schedule an appointment, visit their website or call (310) 424-3100.
Comments Off

on 5 Questions About Living with Invisalign in Torrance
No Comments
No comments yet.
RSS feed for comments on this post.
Sorry, the comment form is closed at this time.