August 1, 2019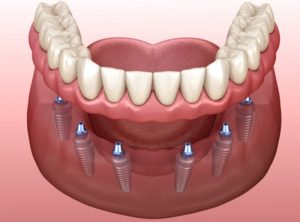 You've carefully filled a glass with denture cleaner solution. Carefully, you reach into your mouth to put your dentures to bed for the night, when suddenly, crash! You've dropped them on the floor again. If only there were an option for dentures for clumsy people. Fortunately, there is with implant-retained dentures in Torrance. Let's look at why they're a solution to broken dentures.
What Are Implant-Retained Dentures in Torrance?
While a regular denture simply sits on the gums, implant-supported (or "permanent") dentures are attached to dental implants, which are metal posts that are permanently placed in the jawbone to mimic the structure of a tooth root. These implants have special attachments that snap onto the implants and provide more stability than traditional dentures.
Are Implant-Retained Dentures Right for Me?
You would make a good candidate for permanent dentures if you:
Are missing several teeth
Have enough healthy jawbone tissue to support implants
Don't have any diseases that could compromise the healing process or your immune system
Don't smoke
How Are They Better Than Regular Dentures?
Permanent dentures have many advantages over regular dentures, such as:
More stability
Easier eating due to not slipping around
No lisps or whistling sounds when you talk
More comfortable
Covers less of your palate
Won't fall out
How Can I Care for My Dentures?
Here are some tips to taking care of your dentures to make them last as long as possible:
Place them in a denture cleaning solution every night, or whenever you're not wearing them.
Brush your dentures every day to remove bits of food and dental plaque that could cause cavities and gum disease.
Brush your gums, tongue, and the roof of your mouth every morning before you put your dentures in. This will help remove plaque and stimulate circulation in those areas.
Visit your dentist in Torrance every six months for a checkup. In addition, see him or her every time your dentures don't fit right. Don't try to adjust them yourself, as that could damage them beyond repair.
If you're tired of dropping your dentures that don't even fit right in the first place, consider trying implant-retained dentures. They're the best solution to multiple tooth loss there is!
About the Author
Dr. George Cho initiated the pre-doctoral implant program at Ostrow School of Dentistry at the University of Southern California in 2002. He has been deeply involved in educating students about planning and implementing dental implants. To learn about how Dr. Cho can fix you up with implant-retained dentures, click here or call (310)-424-3100.
Comments Off

on Broken Dentures? Try Implant-Retained Dentures in Torrance
No Comments
No comments yet.
RSS feed for comments on this post.
Sorry, the comment form is closed at this time.